REQUEST FOR PUBLIC INPUT
On Bridge Art and Aesthetic Treatments for Interstate 25 / Williamsburg Interchange Improvements
Control Number 1100990
What is the Project?
The NMDOT and FHWA are proposing improvements to the Interstate 25 / Williamsburg Interchange located at Exit 75 in the Village of Williamsburg, Sierra County, New Mexico. The improvements will address the structurally deficient bridge while improving geometry, drainage, and safety. The new interchange will consist of a diamond configuration with the new bridge offset slightly to the north. To enhance the visual effects from the project, the NMDOT and FHWA are proposing bridge art and aesthetic treatments for the new interchange.
Project Area Map
The project area is located at Exit 75.  The I-25/Williamsburg Interchange provides local access to Williamsburg via Broadway Street which is also called the I-25 Business Loop.  This route is home to many businesses within the community and serves as a local route for the surrounding communities.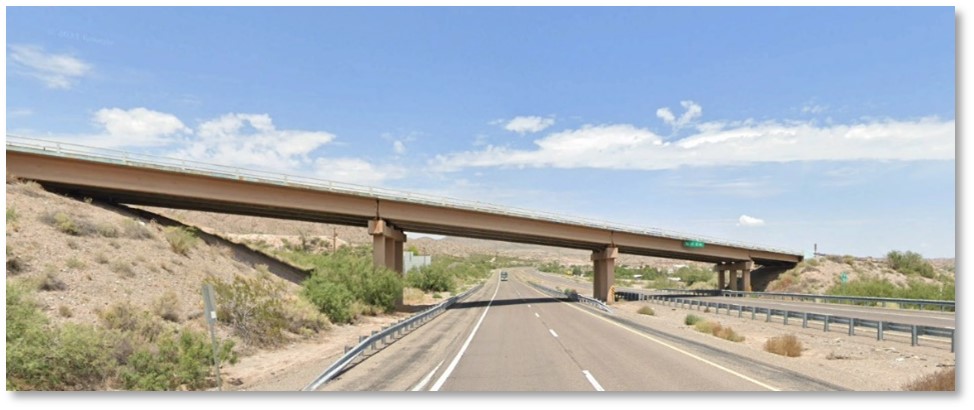 Existing Bridge
View looking north towards the existing bridge from Interstate 25.  Construction of the interchange took place in 1968.
Proposed Bridge Exterior
Proposed bridge aesthetic treatment to the exterior of the bridge to be viewed from I-25.
Bridge Abutments
View of proposed aesthetic treatments for the bridge abutments to be viewed from underneath the bridge.
How to Provide Comments?
The NMDOT and FHWA invite your comments on the proposed bridge art and aesthetic treatments. Please review the images provided here.  For more information or to provide comments, please contact Wyatt Kartchner of Molzen Corbin.
Comment Period
December 28 2021 to January 28, 2022
Mail Us:
Williamsburg Bridge Art
1155 Commerce Drive, Suite F.
Las Cruces, NM  88011