District 4
District Four covers over 22,300 square miles and is comprised of seven counties, twenty municipalities, sixteen patrols, five project offices, and two traveling crews.  District 4's Headquarters is located in Las Vegas the largest municipality of the District.
This region is a gateway to travelers with numerous opportunities for outdoor excursions (boating, camping, fishing, hiking, hunting, skiing, sightseeing and swimming) that makes District 4 very attractive to both in state and out-of-state visitors. Numerous State and National Parks and a large number of events put on by towns and communities District wide are contributors to our regions popularity.
The terrain and weather varies considerably with elevation ranges from just above 4,000 feet in the plains to mountain passes 9,000 feet and mountain peaks at about 11,000 feet.  You can see the Front Range of the Rocky Mountains to the west, Mesa and Hill Country in between and the Great Plains to the east and southeast. Weather and road conditions can vary within District 4 as the terrain and elevation is very diverse.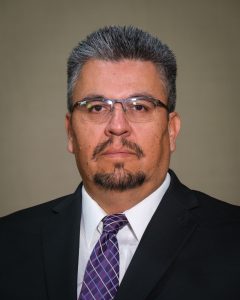 District 4 Engineer
Adam Romero, P.E.
District 4 Office:
Physical Address
28 Industrial Drive
Las Vegas, NM 87701
Mailing Address
P.O. Box 10
Las Vegas, NM 87701